Product Description
Features
Dramatically improved productivity
•Dramatic improvement in productivity is realized by high-speed insertion at 0.12 s/component.
•The following also contribute to improve the productivity;
1)Feeder carriage 1 feeder movement within a tact time of 0.12 s/component.
2)The extended distance traveled by XY table within a tact time of 0.12 s/component.
3)Reduction of time required for insertion of jumper wire in Y direction (Approx. 10% improvement compared with the previous machine, AVK2B).
•Random access system enables an operator to carry out operation with the touch of a button.

•The highly increased productivity of AVK3 (3 times as high as those of AE, AV and AVB) also realizes significant reduction in insertion cost (and moreover in power and air consumption).
Improved operability
•The machine provides operation guidance on the LCD, thus enabling interactive operation. (Switchable between Japanese and English on the screen)
•Information needed by the operator for production management (error messages, production management information etc.) is displayed on the monitor and can be printed out.
Adoption of global transformer
•Global transformer applicable to 200, 220, 380, 400, 420 and 480 V comes as standard. (No external transformer is necessary.)
The AVK3 can be combined and linked with other machines.

1

Applicable Electronic Parts

Taped axial lead parts

(carbon resistor, cylindrical ceramic capacitor, solid resistor, diode and taping jumper wire)

Jumper wire (optional)

= = Refer to `Insertion Part Specifications` in this section for part dimensions.

2

No. of Part Inputs

1. Taping width 26 mm

• 120 inputs (60 + 60) + Reel type jumper wire (optional)

2. Taping width 52 mm (Pack width: Max. 80)

• 120 inputs (60 + 60) + Reel type jumper wire (optional)

3. Taping width 26 mm and 52 mm can be used.

3

Part Packaging

Flat pack

4

Insertion Angle

4 angles (X, Y, -X, -Y)

5

Insertion Tact Time

Max. tact time: 0.12 s/point

Max. tact time conditions according to part type and insertion angle

Applicable

part

Insertion angle

Axial lead part

Jumper wire

X direction (0°)

0.15 s/point

0.12 s/point

Y direction (90°)

0.12 s/point

0.15 s/point

-X direction (180°)

0.15 s/point

⎯

-Y direction (270°)

0.24 s/point

⎯

Other conditions for max. tact time (0.12 s/point)

XY table movement: Max. 35 mm for X, 39.5 mm for Y (However, within 30 mm for X, 34 mm for Y when there are parts above 3 mm high on the PC board.)

6

Pitch Switchover within the

Tact

5.3 mm within the tact (0.12 s/part)

7

Direction of PC Board Flow

Right to left

8

PC Board Replacement Time

Approx. 2 s

9

Applicable PC Board Dimensions

Max. 508x381 mm

Min. 50x50 mm

*1, 2, 3

10

Insertion Area

Max. 508x371 mm

Min. 50x40 mm

11

Insertion Pitch

5 to 26 mm (Can be set freely by 0.01 mm increments.) 5 to 26 mm for jumper wire (optional)

12

Insertion Height

Insertion height programmable according to the part diameter and

lead diameter

13

Part Fixing System

Cut and Clinch system (piezoelectric detection system)

14

Clinching Angle

15° to 30° inner clinching
15

Clinching Length




* The above numerical range indicates the variation which arises due to difference in the shape or material of insertion part leads and the diameter of holes of PC Boards.

* When changing the clinch length (changing reference size), the parts in the anvil unit need replacing. (Individually supported)

=REMARKS=

1. A clinch mark will be left after cutting or clinching.

The shape of clinch mark varies according to the lead diameter or material of the insertion part.

2. Clinched part will be tilted a maximum of ±10° in the horizontal direction due to the hole diameter of PC board or accuracy of hole position.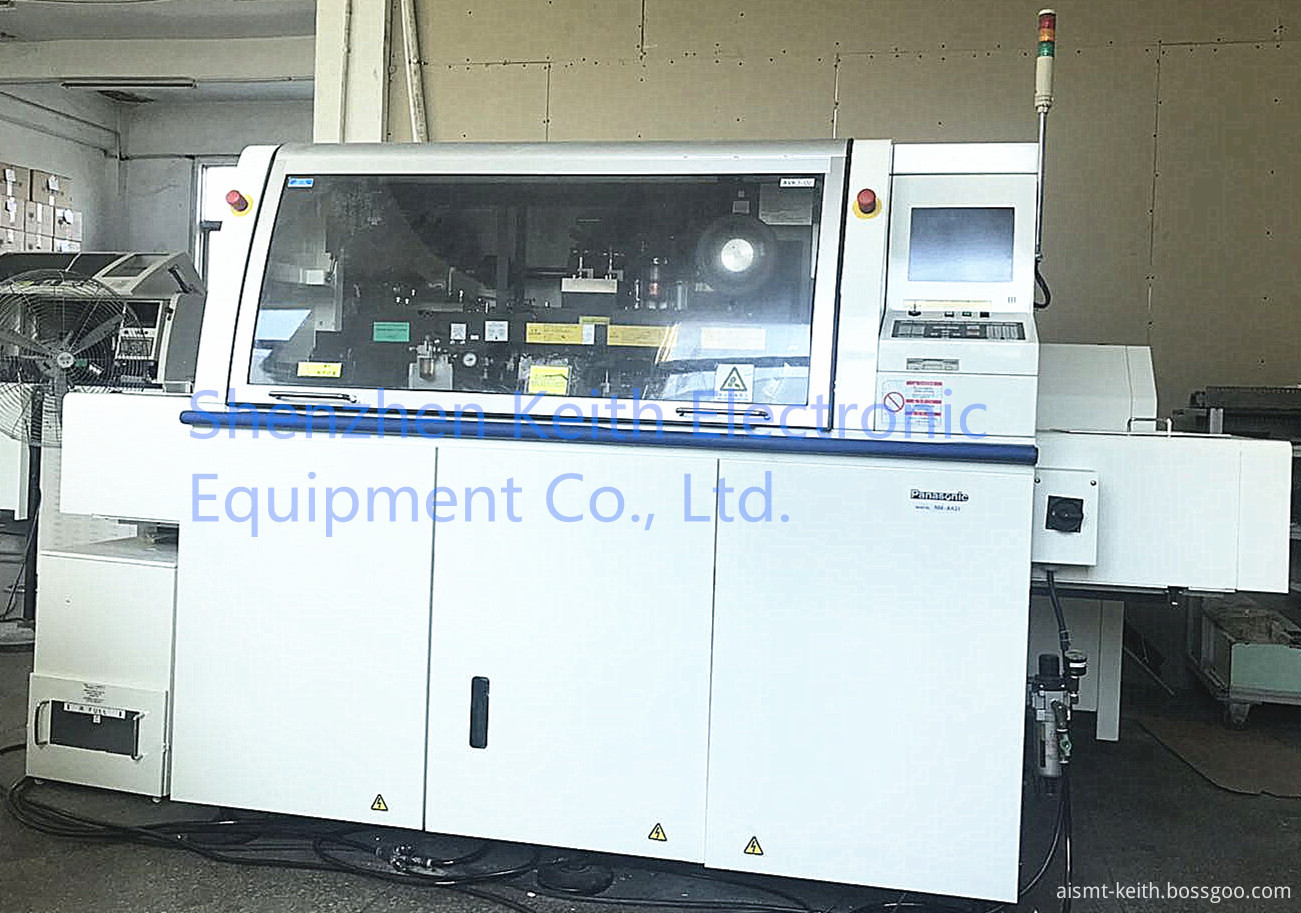 Shenzhen Keith Electronic Equipment Co., Ltd." located in Baoan District, Shenzhen. It is a supplier of AI and SMT equipment, spare parts, consumables and auxiliary consumption materials in China. Over the years, we have provided advanced equipment and parts for our customers to ensure high-quality service. And for exporting market, we are planing to developing Europe, North America, South America, Southeast Asia,India and where need SMT equipment spare parts.
Business philosophy: cooperation, win-win, innovation, mutual assistance
We have been adhering to the brand management concept of "focusing on product quality and customer needs", through the implementation of open innovation, excellent operation management, human resources development and other strategies, to comprehensively construct the core competitiveness of the company, create customer and social values, and win the unanimous praise of the vast number of customers and society.
Main products:
Panasonic Insertion Machine, Panasonic Insertion Machine Parts, Panasonic Placement Machine, Panasonic Placement Machine Parts, Panasonic Feeder & Feeder Parts, Feeder Trolley, SMT Squeegee etc. To learn more about our products, please contact us through the following email address, look forward to your cooperation!