Product Description
Panasonic Chip Mounter CM602-L
Features & Benefits
One platform solution for any kind of production
Commonality with existing equipment
Linear motor drive increases reliability and reduces maintenance
Wide component capability from 0402 (01005) chips to 90 x 100mm on up to 18" x 20" boards

Specifications

Model ID

CM602-L

PCB dimensions (mm)

L 50 x W 50 to L 510 x W 460

High-speed head

12 nozzles

Max.speed

100 000 cph (0.036 s/chip)

Placement accuracy

±40 µm/chip (Cpk1)

Component dimensions (mm)

(01005") 0402 chip *5 to L 12 mm × W 12 mm × T 6.5 mm

High-flexibility head

LS 8 nozzles

Max.speed

75 000 cph (0.048 s/chip)

Placement accuracy

±40 µm/chip, ±35 µm/QFP 24 mm,

±50 µm/QFP <24 mm (Cpk1)

Component dimensions (mm)

(01005") 0402 chip *5 to L 32 mm × W 32 mm × T 8.5 mm *8




When the generalized Ver.5 is optionally selected (01005")0402 chip *5 to L 100 mm × W 50 mm × T 15 mm *6

Multi-functional head

3 nozzles

Max.speed

20 000 cph (0.18 s/QFP)

Placement accuracy

±35 µm/QFP (Cpk1)

PCB exchange time

0.9 s (Board length:up to 240 mm Under optimum conditions)

Electric source

3-phase AC 200, 220, 380, 400, 420, 480 V, 4.0 kVA

Pneumatic source *1

0.49 MPa, 170 L /min(A.N.R.)

Dimensions (mm)

W 2,350 x D 2,290 *2 x H 1,430 *3

Mass *4

3 400 kg
Matsushita Mounter CM602, CM602-L High Speed Module Mounter Features:
1. XY axes are equipped with * new linear motors, which provide * strong power for CM602.
2. The new design and material for the moving arm and head not only reduces the weight,
but also greatly strengthens the rigidity and makes it more stable in the course of movement.
3. The motion of the X-Y axis is designed with high speed and low vibration.
4. The linear motor adopts a new cooling design scheme, which can be cooled more quickly and
effectively than other equipment using linear motor under high-speed movement, ensuring the
operation efficiency of the motor and improving its life.
5.7 kinds of racks can correspond to all braided packaging components from 8mm to 104mm.
They are widely used in the industry. And according to customer demand, a new 8 mm Single rack is added.
6. Material rack switching in operation, overall switching trolley design, overall switching support pin design
and so on can greatly improve the efficiency of equipment operation and type switching time.
7. While improving the production efficiency, the mature design of CM402 is used in software,
hardware and operation to ensure the interchangeability with CM402.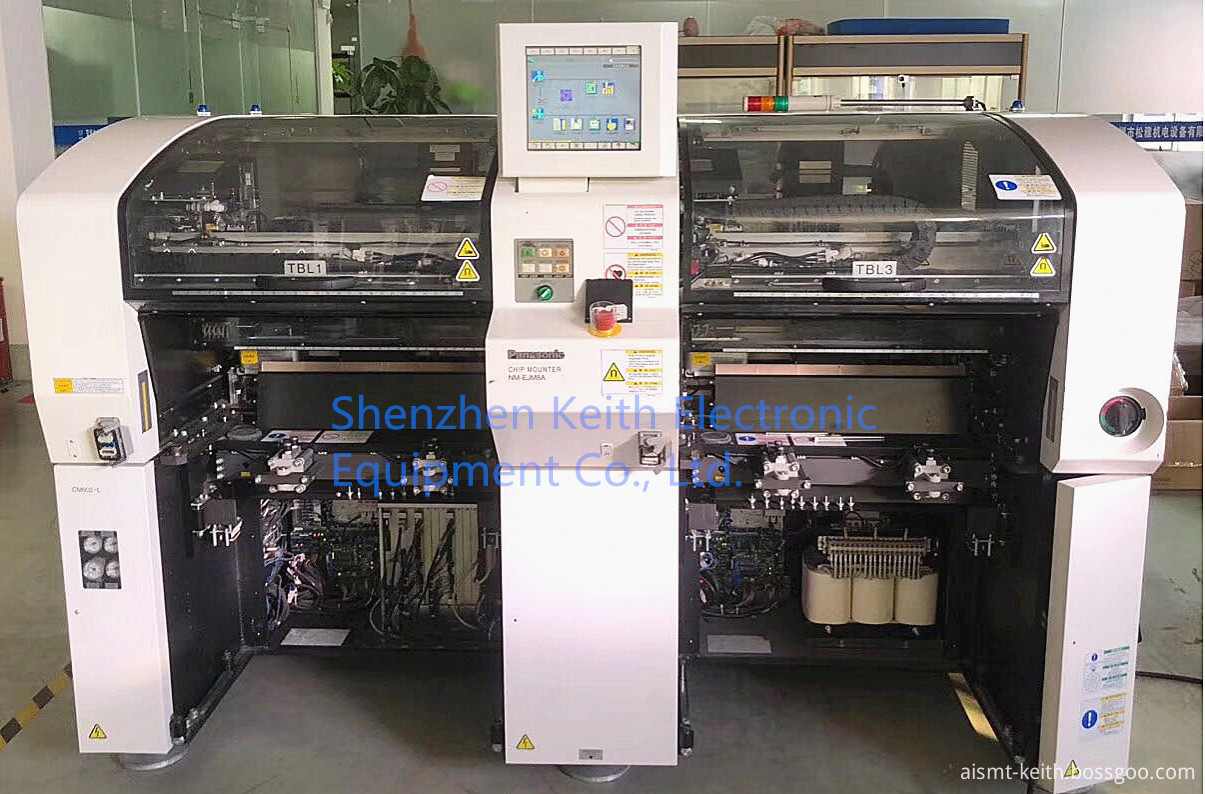 Shenzhen Keith Electronic Equipment Co., Ltd." located in Baoan District, Shenzhen. It is a supplier of AI and SMT equipment, spare parts, consumables and auxiliary consumption materials in China. Over the years, we have provided advanced equipment and parts for our customers to ensure high-quality service. And for exporting market, we are planing to developing Europe, North America, South America, Southeast Asia,India and where need SMT equipment spare parts.
Business philosophy: cooperation, win-win, innovation, mutual assistance
We have been adhering to the brand management concept of "focusing on product quality and customer needs", through the implementation of open innovation, excellent operation management, human resources development and other strategies, to comprehensively construct the core competitiveness of the company, create customer and social values, and win the unanimous praise of the vast number of customers and society.
Main products:
Panasonic Insertion Machine, Panasonic Insertion Machine Parts, Panasonic Placement Machine, Panasonic Placement Machine Parts, Panasonic Feeder & Feeder Parts, Feeder Trolley, SMT Squeegee etc. To learn more about our products, please contact us through the following email address, look forward to your cooperation!