Product Description
Features
The RL131 is a radial component insertion machine with guide pin system capable of high-speed insertion at
a tact time of 0.17 s/component, which also results in saving energy and reduced operation noise.
High-speed and High-density Insertion
High-speed insertion at a maximum tact time of 0.17 s/component allows higher-density insertion.
Improved Operation Rate
The fixed component feeder provides components without stopping the machine which allows longer
hour operation.
Auto supply recovery function and the programming features also contribute to longer hour operation of
the machine.
Higher Reliability
Insertion positions are corrected based on the offset obtained through visual recognition of insertion holes on
PC board, ensuring highly reliable insertion.
Machine Specifications
Item

Details

Power supply

= Rated voltage

= Frequency

= Rated capacity

3-phase 200 / 220 V ± 10 V selectable

380 / 400 / 420 / 480 V ±20 V selectable

50 / 60 Hz

Approx. 3.5kVA

Air supply

= Supplied air pressure Min. 0.45 MPa to Max. 0.8 MPa

(Operation air pressure: 0.45 ~ 0.5 MPa)

= Supplied air mass Approx. 80 L / min. (A.N.R)

Note: Quick coupler attached (SMC KK13P-03M, KK13S-03F).

Dimensions

= NM-EJR1A

= NM-EJR2A

W3,200 ´ D2,417 ´ H1,575 mm

(Not including signal tower) W3,200 ´ D2,417 ´ H1,575 mm

(Not including signal tower)

Mass

= NM-EJR1A

= NM-EJR2A

Approx. 2,250 kg (main body only)

Approx. 2,350 kg (main body only)

Environmental requirements

= Ambient temperature 20°C ± 10°C

Operating controls

= Interactive operation via color LCD touch screen (Front and Rear: Standard equipment)

English/Japanese/Chinese selectable with a single button Recognition screen (displays the recognized board image on a superimposed window)

Hierarchical menu (Operator/Engineer)

= I/O functions 3.5-inch FDD and SD card slot (standard equipment)

= Communication RS-232C

Coating color

= Standard color

White: W-13 (G50)
Basic Performance
Item

Details

Insertion tact time

= Max. tact time: Approx. 0.17 s/point (0.20, 0.25, 0.36, 0.45 s/point changeable)

0.25 s/point conditions

=REMARKS=

*1 X-Y table movement at the tact time of 0.17 s/point: Within 35 mm Insertion direction: 0°, 90°, -90° (180°: 0.36 s/point)

*2 The tact time above is enabled only when components are continuously taped. (Tact time varies if there are missing portions.)

*3 Tact time varies between the beginning and the last of the insertion.

*4 Tact time varies when new components are inserted for recovery.

*5 Tact time varies also if 10 or more feeders are operated at a time due to the NC data setting.

*6 Tact time must be set between 0.25 and 0.45 s when inserting components more than 12 mm in diameter or more than 18 mm in height

Applicable components

Insertion pitch: 2.5 and 5.0 mm Height: Hn = Max. 21 mm Diameter: D = Max. 13 mm

Resistors, electrolytic capacitors, ceramic capacitors, LEDs, transistors, filters and resistor networks

Component packaging

= Taping (in pack or reel)

=REMARKS=

Component pack must be lower than 360 mm and width less than 62 mm. Component reel must be up to 360 mm in diameter and 62 mm in width. Bracket and reel shaft are required. Cannot be used on the upper stage of

the supply unit.
PCB replacement time

= Approx. 2 s to 4 s (Ambient temperature: 20°C):

=REMARKS=

PCB replacement time only includes time for loading. It takes approx. 4 to 5 seconds including the table return time.

Applicable PCB

= Demensions

Min. 50 ´ 50 mm to Max. 508 ´ 381 mm

Width-to-length ratio: Width should be equal to or less than length. Consult us for boards having width longer than length.

= Allowable insertion area

Min. 50 ´ 40 mm ~ Max. 508 ´ 371 mm

= Thickness

1.6 mm ± 0.15 mm (for standard specification)

=REMARKS=

Boards of thickness from 0.6 mm (min.) to 2.0 mm (max.) are applicable. Even if the board thickness is within the above range, clinched angle of the inserted lead or lead length may vary, or board transfer error may occur depending on the shapes of board or insertion holes. Please contact us in advance.

= Mass

Max. 1 kg per board including inserted components.

= Flow direction

Right to left (Standard) or Left to right

= Board positioning method

Pin positioning (Standard, without positioning in the Y direction),

=REMARKS=

Contact us separately for edge positioning.

Insertion pitch

= 2-pitch specification

2.5 mm and 5.0 mm, or 2.54 mm and 5.08 mm

Insertion direction

= 4 directions (0°, 90°, 180° and -90°)

Anvil

= Cutting & Clinch type system (Piezoelectric detection system)

No. of component inputs

= NM-EJR3A

40 types

= NM-EJR4A

80 types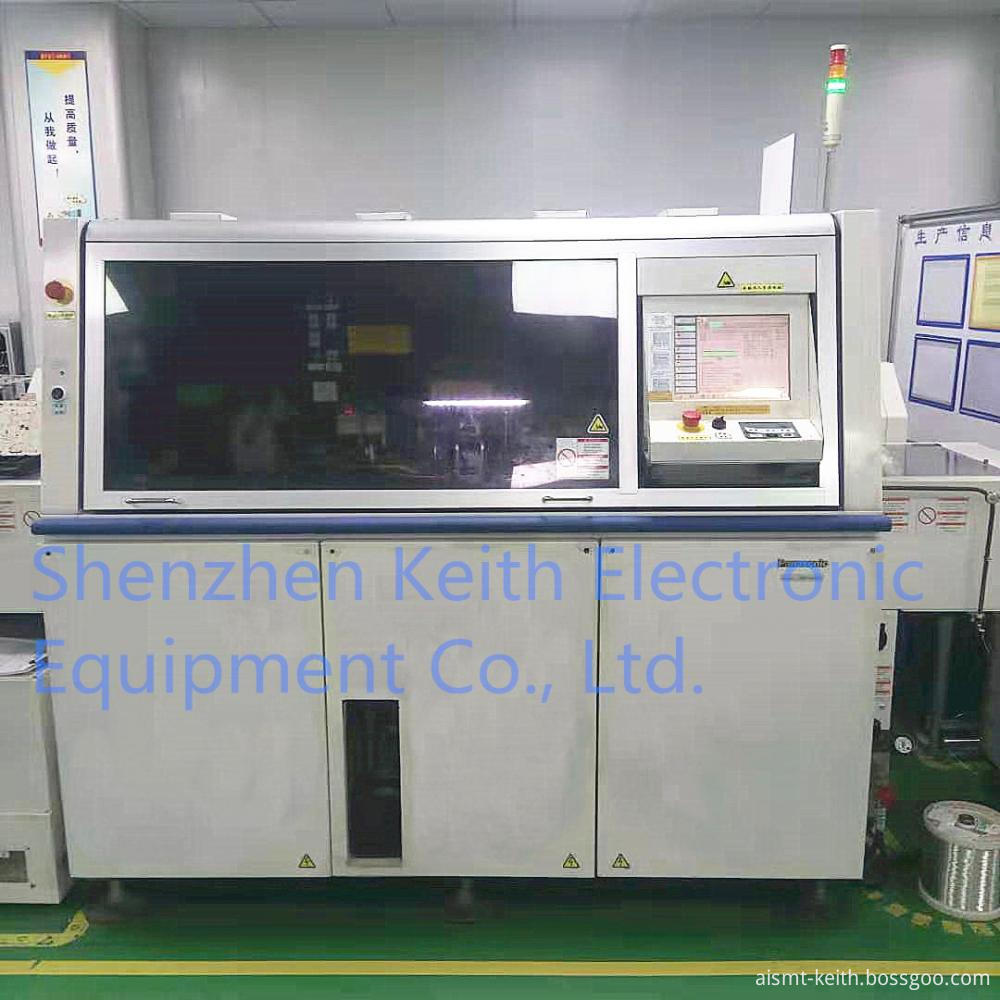 Shenzhen Keith Electronic Equipment Co., Ltd." located in Baoan District, Shenzhen. It is a supplier of AI and SMT equipment, spare parts, consumables and auxiliary consumption materials in China. Over the years, we have provided advanced equipment and parts for our customers to ensure high-quality service. And for exporting market, we are planing to developing Europe, North America, South America, Southeast Asia,India and where need SMT equipment spare parts.
Business philosophy: cooperation, win-win, innovation, mutual assistance
We have been adhering to the brand management concept of "focusing on product quality and customer needs", through the implementation of open innovation, excellent operation management, human resources development and other strategies, to comprehensively construct the core competitiveness of the company, create customer and social values, and win the unanimous praise of the vast number of customers and society.
Main products:
Panasonic Insertion Machine, Panasonic Insertion Machine Parts, Panasonic Placement Machine, Panasonic Placement Machine Parts, Panasonic Feeder & Feeder Parts, Feeder Trolley, SMT Squeegee etc. To learn more about our products, please contact us through the following email address, look forward to your cooperation!